Few cities have had the historical and spiritual importance of Jerusalem. It also seems that for as many different eras that it has played a role, it has occupied slightly different ground.
The original city of David was located on a site just south of the Temple Mount. During the time of Christ, the city walls contained the Temple Mount and Mount Zion to the South. In essence, then, the city of Jerusalem was Mount Zion with the modern Armenian and Jewish Quarters -- with the Christian and Muslim Quarters being outside the walls.
Over time, the city shifted to the north, where it was during the Byzantine and Crusader period. This new footprint of the city included the Church of the Holy Sepulchre,
http://www.holysepulchre.custodia.org/
, and the modern Christian and Muslim Quarters.
By the time Suleiman the Maginificient had the present walls constructed in the 1530sAD, Mount Zion was now definitively excluded from the walled city. All of this can make it rather difficult to get a sense of what the city was like at any given time.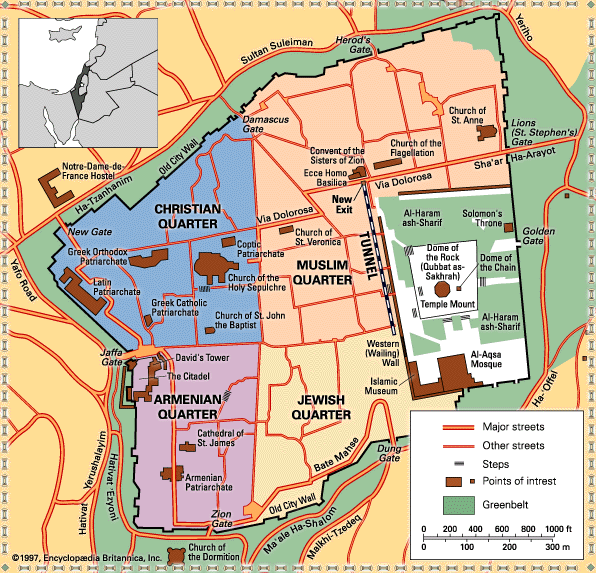 The current Old City of Jerusalem
In any event, here is a sort of walking tour of the Old City as it is today -- recall that the Christian Quarter is in the NW, Muslim Quarter NE, Armenian Quarter SW, and Jewish Quarter SE. The video is arranged, not geographically, but by the time of day of the visit. Enjoy a Sunday afternoon walk!
Finally, this virtual tour of the Church of the Holy Sepulchre is fantastic:
http://www.holysepulchre.custodia.org/custom/virtualtour/index_en.htm