Nativity with San Francesco e San Lorenzo by Caravaggio.
Dum medium silentium tenerent omnia, et nox in suo cursu medium iter haberet, omnipotens Sermo tuus, Domine, de coelis a regalibus sedibus venit.
While all things were in quiet silence and the night was in the midst of her course, Thine Almighty Word, O Lord, leaped down from heaven from Thy royal throne. (Wisdom 18:14-15)
Today is the Sunday within the Octave of Christmas. Traditionally, on this day, the faithful pause for some theological consideration of the mysteries of the season. My missal notes, "the sacred liturgy, in revealing to us the supernatural Sonship of our Lord Jesus Christ, which affects our souls more especially at this time of Christmas, makes the Divinity under the aspect of Fatherhood resplendent in our eyes."
In the revised calendar, these considerations are brought into focus with a celebration of the Holy Family -- which this blog will do on its traditional date.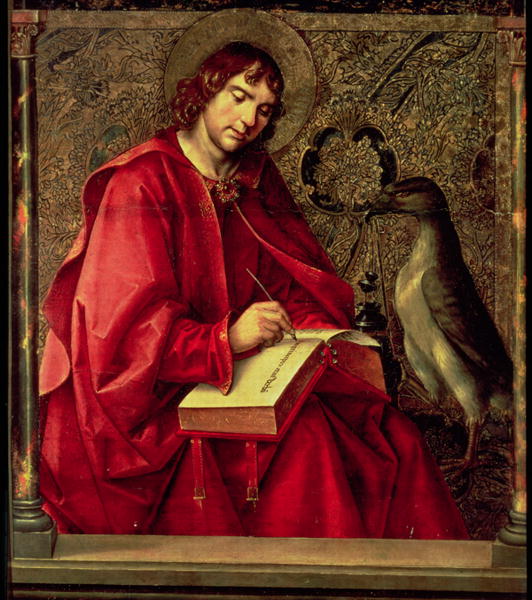 Today, 27 December, is the third day of the Christmas Octave, and the Feast of St. John the Apostle and Evangelist.
He, the brother of St. James, was one of the sons of Thunder, and was known as the "Beloved" Apostle. He, with St. Peter and St. James had a prominent role as one of the leading Apostles. Of course, St. John is also notable for having been entrusted with the Blessed Virgin Mary at the Crucifixion: "Behold your mother." He wrote not only the Holy Gospel according to St. John, but three Epistles and the book of Revelation. The last of the Apostles to die, and the only one to actually escape martyrdom (though it was not from a lack of trying on persecutors' part).
For more on St. John, you might check out these links:
Old Catholic Encyclopedia: St. John the Evangelist
Catholic Saints Info: St. John the Apostle
Seasonal Customs (Fisheaters): Feast of St. John
Merry Christmas and live well!