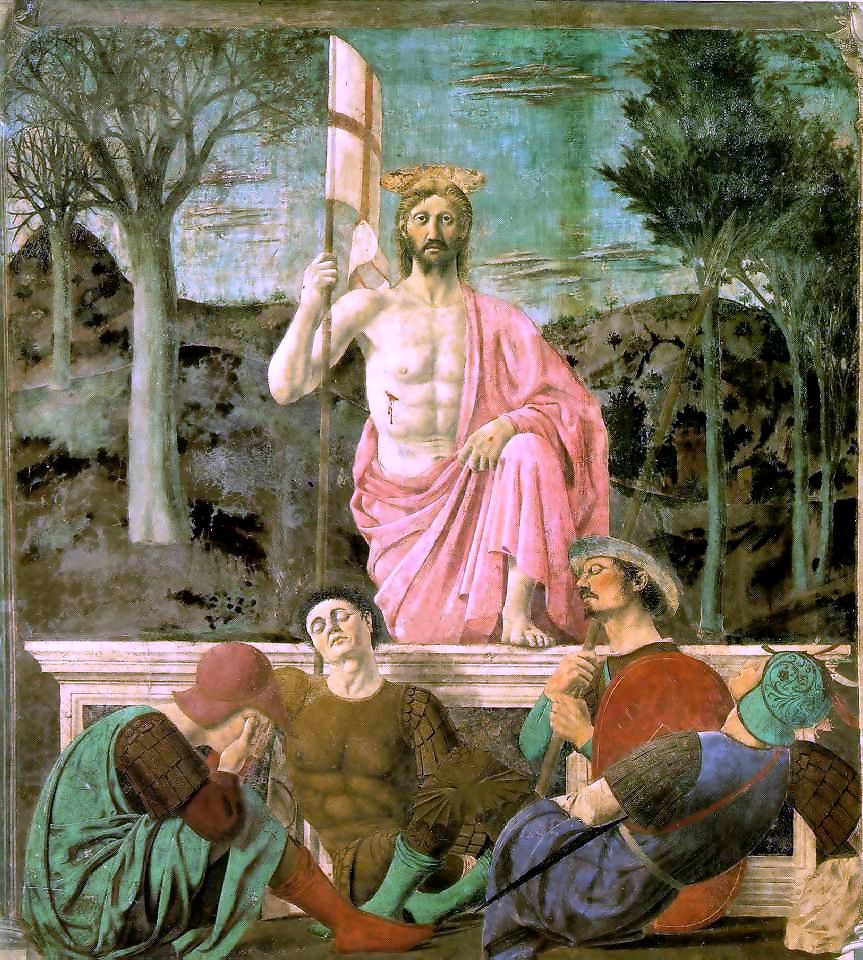 The Resurrection by Piero della Francesca, 15th century.
The Octave of Easter continues today, Easter Tuesday. Each day this week is, of course, a solemnity or 1st Class Feast, as we continue to bask in the glory of the Resurrection of Our Lord, Jesus Christ. For more on this wonderful feast, you might note:
Old Catholic Encyclopedia: Easter
Fish Eaters: Eastertide
Here is a recording of the Alleluia verse for Easter Tuesday:
Today, I wished to take a look at the Resurrection account according to St. Mark, and his gospel. He recounts, in chapter 16:
"Chapter 16:
1
And when the sabbath was over, Mary Magdalen, and Mary the mother of James, and Salome had bought spices, to come and anoint Jesus.
2
So they came to the tomb very early on the day after the sabbath, at sunrise.
3
And they began to question among themselves, Who is to roll the stone away for us from the door of the tomb?
4
Then they looked up, and saw that the stone, great as it was, had been rolled away already.
5
And they went into the tomb, and saw there, on the right, a young man seated, wearing a white robe; and they were dismayed.
6
But he said to them, No need to be dismayed; you have come to look for Jesus of Nazareth, who was crucified; he has risen again, he is not here. Here is the place where they laid him.
7
Go and tell Peter and the rest of his disciples that he is going before you into Galilee. There you shall have sight of him, as he promised you.
8
So they came out and ran away from the tomb, trembling and awe-struck, and said nothing to anyone, out of fear.
9
But he had risen again, at dawn on the first day of the week, and shewed himself first of all to Mary Magdalen, the woman out of whom he had cast seven devils.
10
She went and gave the news to those who had been of his company, where they mourned and wept;
11
and they, when they were told that he was alive and that she had seen him, could not believe it.
12
After that, he appeared in the form of a stranger to two of them as they were walking together, going out into the country;
13
these went back and gave the news to the rest, but they did not believe them either."
Surrexit Dominus vere, alleluia, et apparuit Simoni, alleluia!
Live well!