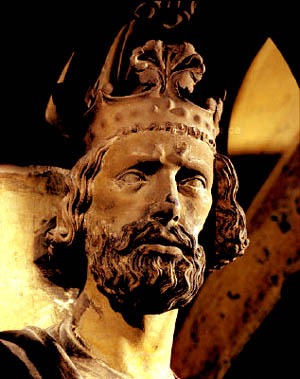 Holy Roman Emperor and King of Germany Saint Henry II (reigned, 1002-1024AD, crowned Emperor in 1014), was the great grandson of Henry I "the Fowler" and husband of Empress Saint Cunegunda (+1040), a daughter of the Count of Luxembourg. His father and grandfather both reigned as Dukes of Bavaria, as St. Henry did for a few years.
Bamberg Cathedral in Bavaria, burial place of Emperor St. Henry II and his wife.
St. Henry is a holy monarch and devoted son of the Church, he was a bright spot in a difficult and turbulent age. He was a Benedictine Oblate, and, with St. Frances of Rome, one of their patrons. Already King of Germany since 1002, he was crowned Holy Roman Emperor by Pope Benedict VIII in 1014. It is supposed that he and his Empress lived a Josephite marriage, hence, upon his death, the throne passed to a second cousin twice removed, Emperor Conrad II, in 1024AD. St. Henry II was buried in Bamberg Cathedral (along with Pope Clement II, reigned 1046-1047AD, too).
Tomb of Sts. Henry II & Cunegunda in Bamberg Cathedral.
He was canonized in 1146 by Blessed Pope Eugene III.
For more:
Patron Saint Index: Emperor St. Henry II
Old Catholic Encyclopedia: Emperor St. Henry II
Here is the website of Bamberg Cathedral:
http://www.bamberger-dom.de/
Live well!