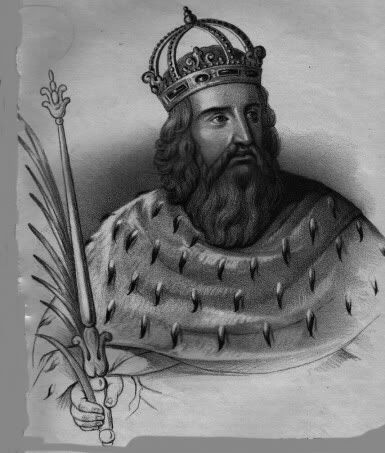 Today is the feast day of King St. Eric IX of Sweden (+1161AD), martyr and patron of Sweden.
St. Eric was known as a just and noble ruler of the Kingdom of Sweden, who was responsible for the establishment of a code of laws -- King Eric's Law. For this he is sometimes known as "the Lawgiver." He also defeated the his realm against the attacks of the pagan Finns.
As far as religion was concerned, he worked with St. Henry, Bishop of Uppsala, and of English origin, and built the first great church of Sweden at Uppsala.
Nevertheless, pagan opposition to his support of the Church finally led, on 18 May 1161, to his marytrdom at the hands of noble opposition as he was leaving Mass. It is said that his reply, when told during Mass of the coming of the conspirators, was: "Let us at least finish the sacrifice; the rest of the feast I shall keep elsewhere."
The claim is made that this martyrdom occurred either in 1160 or 1161, and on either the day after the Ascension (which is today in 2012AD), or the actual day of Ascension itself, though these claims don't seem to fit with the date of the Ascension in those years. What is agreed by all is that he died on 18 May.
Here is his brief page at the Patron Saint index:
Catholic Saints Info: St. Eric of Sweden
He is buried in the Cathedral at Uppsala, Sweden, north of Stockholm, the modern capital city.
The casket of St. Eric at Uppsala -- Sanctus Ericus Rex et Martyr
Last year, the tomb of St. Eric was opened, as this article describes:
The Local.se: Scientists to open the Tomb of St. Eric
The Catholic Cathedral of Stockholm bears the name of St. Eric:
Official website of the Cathedral (Swedish Language)
Live well!