St. Augustine (+430):
The Bishop of Hippo in North Africa for 36 years, St. Augustine is probably the most famous of the Latin Doctors. Certainly his
Confessions
and
City of God
stand out of an almost incredible number of writings. He was received into the Church by St. Ambrose, and had some rather amusing correspondence with St. Jerome! For the Latin Church, he is most certainly the most influential of the early Doctors, and his contribution is hard to overestimate.
St. Augustine was born at Tagaste, in Africa, in 354AD, son of St. Monica and Patricius. He is famous for his dissolute youth (including fathering a son), for his interest in philosophy, and his eventual conversion to the Faith, thanks to the guidance of St. Ambrose, the prayers of his mother, and his honest search for truth!
Tomb of St. Augustine at St. Peter in Ciel d'Oro, Pavia, Italy.
[
"Pavia San Pietro Arca Sant'Agostino" by Welleschik - Own work. Licensed under CC BY-SA 3.0 via Commons
]
His remains are in the Italian city of Pavia, in the Church of St. Peter in Ciel d'Oro, having been evacuated from Africa during the time of the Vandal, Hunneric. This link provides more information:
Tomb of St. Augustine
. As an aside, that is the same Church in which St. Boethius, author of the Consolation of Philosophy, is buried! For more:
La tomba di sant'Agostino – Pavia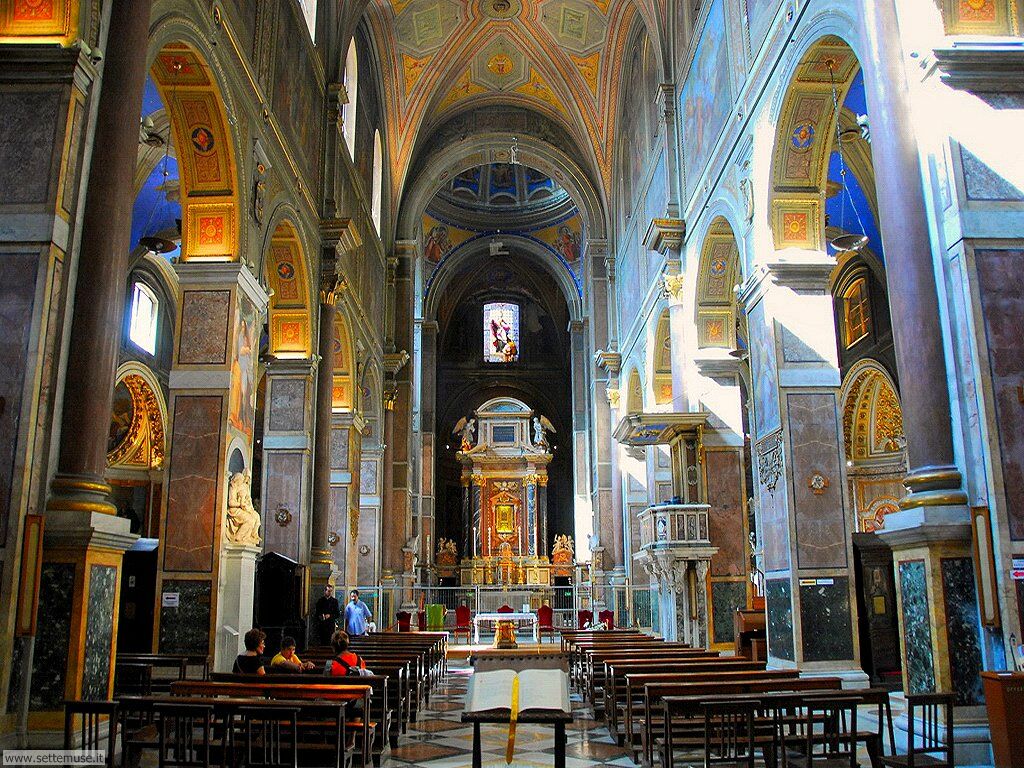 The interior of Sant'Agostino, Roma
[Cf.,
http://romanchurches.wikia.com/wiki/Sant'Agostino
]
St. Augustine's mother, St. Monica, is buried, as it happens, in the Church of Sant'Agostino, in Rome! This Roman basilica is not far from Piazza Navona, and is certainly worth the visit; a visit that rewards not only with a beautiful church and the tomb of St. Monica, but a striking work of Caravaggio.
For more on the life of St. Augustine, you might note:
Old Catholic Encyclopedia: St. Augustine
Catholic Saints Info: St. Augustine
Perhaps today is a good day to page through some of his writings, which you can find here:
New Advent: The Fathers of the Church
Live well!